Information
abime.net is copyright 2001-2018 by Astruc Pierre, also known as RCK.
Readers may not modify, publish, transmit or in any way exploit any of the contents of this site, in whole or in part, without the express prior permission of the copyright holder. Direct comments to the appropriate person. All rights reserved.
OpenURL
OpenURL:
This library was created to make it easier for application programmers to
include clickable URLs in their applications, about windows, etc.
Current solutions to this problem typically are to launch an ARexx script
or just support a few webbrowsers, with no room for configuration. This
leads to countless reinventions of the wheel (how many SendURLToBrowser.rexx
scripts do you have on your harddisk?).
This library solves the problem by giving application programmers a very
simple API to handle (one function) and the user gets configurability with
the included preferences program.
OpenURL was originally developed by Troels Walsted Hansen, et al. Since 2005
it is developed by an independent open source developer group. It is released
as a public domain software.
OpenURL is available for
OS3, OS4, MorphOS and AROS
.
The OpenURL project is hosted on Github. Its project name is "libopenurl".
To report bugs use the bug tracker at
https://github.com/jens-maus/libopenurl

OpenURL v7.18: Download
XMPlay 3.83
Posted by
Viceroy
- 10 January 2018
21:21
XmPlay 3.83 is out, its over 2 years since last update, there is a plugin on the website called xmp-delix which plays a lot of Amiga mods.
=================
XMP-DELIX is a plugin for XMPlay for playing music in many various (often exotic) Amiga formats. Delix acts as a wrapper allowing XMPlay to use the EaglePlayer and DeliTracker players.
http://support.xmplay.com/index.php
2 comments
MMULib
MMULib
: The mmu.library is a basis for MMU (memory management) related functions the
MC68K family can perform. Up to now certain hacks are available that program
the MMU themselves (Enforcer,CyberGuard,GuardianAngle,SetCPU,Shapeshifter,
VMM,GigaMem...).
It's therefore not unexpected that these tools conflict with each other.
There's up to now no Os support for the MMU at all - the gap this mmu.library
fills.
The goal is to provide a basis of functions to address and program the MMU in
a hardware independent, Os friendly fashion. Hence, the new version of the
Enforcer, called MuForce, will work together with virtual memory, and others.
The mmu.library is also the basis for the virtual memory project, the
memory.library. Even though the mmu.library does not provide virtual memory
itself, it builds the basics to allow an easy implementation and to avoid the
hacks required by other implementations so far.
The memory.library is now complete and can be found in this archive.
MMULib v46.13.1
:
Download
Roadtrip - New amiga game by Raliza Software
Since around September I had been working in a new multiplayer game for Amiga. This time around I wanted to have good graphics so I asked a friend to draw them. I really wanted to release the game in 2017, the game coding is done but still waiting for the graphics to be finished.
So, as I really wanted to release another game before 2017 ended, I quickly made this new game
Roadtrip
I begun working on it 12 days ago, just finished putting all together.
So, here it is:
https://ralizasoftware.neocities.org/amiga.html
It requires 1Mb of ram (At least 512kb Chip Ram, the other 512kb may be of any kind). On Winuae it needs *Cycle Exact* option enabled and Full ECS. With OCS the game gets a few graphical glitches but it seems to be playable, I dunno if this would happen on a real machine too (I only have ECS machines to test)
I got the music from the Modarchive site... if anyone knows the author of this mod file please let me know, I'd like to give credits (or, I dunno, even remove the music if he doesn't want it on my game)
The graphics obviously aren't very good as I can't draw for shit, but I think it looks a bit better than my previous game, Quasarius
Have fun, hope you guys enjoy the game. If you find any bugs or glitches let me know, I spent the whole day today testing it, but something may have slipped.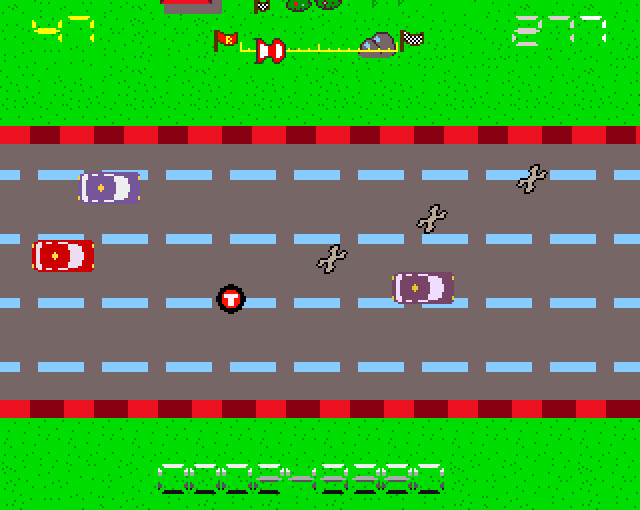 10 comments
WORTHY - new OCS game from Pixelglass!
Posted by
Tsak
- 27 December 2017
23:48
Greetings and merry Christmas to all EABers!
We proudly present to you our brand new game called Worthy, a cute maze/arcade/action puzzler for all OCS machines (512chip+512slow)!
https://www.youtube.com/watch?v=2c3535fQn4o&t=5s
Assume the role of a fearless boy and collect the required number of diamonds in each stage in order to win the girl's heart! Travel from maze to maze, kill the baddies, avoid the traps, collect beers (your necessary "fuel" to keep you going), find the diamonds, prove to her you're WORTHY!!
The game's concept draws inspiration from another one, recently ported to Amiga by BSZili (huge thanks there!) called 'With fire and Sword: Spiders'. While that mini-game is a pure turn based/rogue like moving puzzler, Worthy takes the idea to a completely new direction with realtime movement and extra action elements, expanding it into a full-lenght experience!
We plan to release this game at early 2018 as a budget title with digital, boxed CD (CD32 compatible with NVram supported) and boxed floppy disk versions available!
Cool to note here is that this game is coded by the newest member in our Pixelglass family: Alex Brown (aka Alpine9000 - coder of 'Blocky Skies' & the recent 'Else we get mad' from AmigaWave) and includes the music of our friend & 'usual suspect' Simone Bernacchia (aka JMD)!
Thanks a lot and enjoy the news!
(plus remember, we still need your support, so if you want more games from Pixelglass do consider to pre-order
here
a copy of our other big upcoming title: Alarcity)
http://pixelglass.org/
20 comments
SimpleMail Released
SimpleMail v0.44:
Download
SimpleMail is a new mailer for the Amiga platform and compatible systems OS3, OS4, AROS and MOS. It is intended to be as portable as possible so there speaks nothing against a version for other systems, like for example Windows.
In the current state, SimpleMail is an beta version but it is very stable however as we try to implement every feature so that it works and go then on to the next one. However, SimpleMail grows very fast and with your help it can overgrow YAM soon.
1 comments
Happy Christmas & Happy New Year from Amiga Kit Amiga Store
Happy Christmas to all our customers, resellers and friends of Amiga Kit world wide.
For any customers purchasing any products with a price over GBP 50 / USD 50 / EUR 50 between today and 31 December you can select either a free
Boing Ball Ruler
or
Boing Ball Key Ring
with your order.
To qualify, simply click on the item you wish to add free of charge, select the Configuration Option at the bottom of the product page "FREE WITH PURCHASES OVER 50/EUR50/50" which will reduce the price to zero and add to your shopping cart before checking out with your order.
Free item must be purchased at same time as order. Offer valid from 26 December to 31 December. Excludes shipping/handling charges and any transaction fees. One free gift per order.
12 comments
AlarCity - PixelGlass is aiming for new heights for the Amiga with a campaign trailer
Posted by
Neil79
- 24 November 2017
11:53
Quote:
You may remember our exclusive heads up in 2016 for the unofficial Amiga platformer overhaul of ' The Great Giana Sisters ', which was known as ' Giana Sisters Special Edition '; a remastered/overhauled release by a new label called Reimagine Games who focused on non commercial ports, hacks and remakes. However another label as PixelGlass was also created but instead was to focus on the commercial side for the Amiga! This new team of people are now aiming to impress, as they have recently announced the very latest AlarCity campaign trailer & preorder campaign.
http://www.indieretronews.com/2017/1...g-for-new.html
39 comments